High Speed Wire Bonder adaptable to wide frames and suitable for LED and discrete production
Platform featuring high speed bonding of 42ms/0.7mm (45ms/2 mm) with completely updated X, Y and Z motors
Bonding accuracy of±3.0μm(3σ)achieved
Capable of indexing 102mm x 300mm lead frames by allowing Y bonding area of 95mm
Simultaneous detection and bonding capability in X and Y directions
Applicable to Cu wire due to addition of Cu kit
Connect with chain bonds: Capillary Wedge Bonding (CWB)
NAND flash memories, widely used as a storage medium such as the familiar USB memory stick, and for large-scale cloud servers, are produced by stacking many dies for increased capacity. Signals from the stacked dies are transmitted through bonded fine metal wires. Conventionally, to bond wires on stacked dies, it is necessary to bond the wire, terminate it, and then bond additional wires on the subsequent steps. This is a time-consuming task and has been one of the productivity bottlenecks in NAND flash memory production.

Shinkawa has developed a high speed bonding method using CWB and CWB with bump (CWBB) technologies which allows multi-stack wire bonding in a single, continuous cycle without terminating wires. Shinkawa continues to refine this technology so that a wide range of customers can benefit from its short cycle time.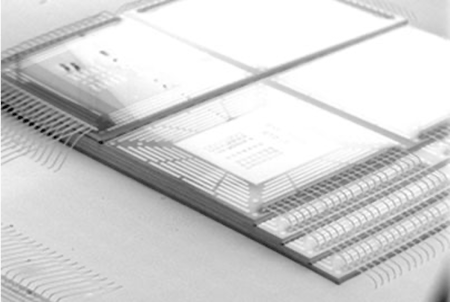 From connecting to making: the wire bonder as electronic device manufacturing equipment
Conventionally, a wire bonder has been widely used as a machine for connecting electrical signals. The connecting demand will never go away, and in fact, it has propelled us to create a wire bonder that can place and shape wires freely. Its capability allows the wire bonder to evolve into an electronic component manufacturing machine by creating coils – important parts of electronic components.

For example, it is possible to create coils with specific impedance or create supplementary coils for circuit adjustment. Shinkawa is continually working on new challenges based on wire bonding technology.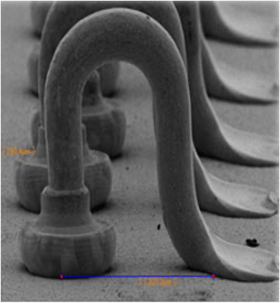 Bond Inspection Measurement (BIM)
BIM is the capability to correct bonding position by feedback of the positional deviation of each bonding position from the pad center using images captured after bonding. It corrects in real time any positional deviation due to disturbances during the bonding operation, and stabilizes the bonding accuracy.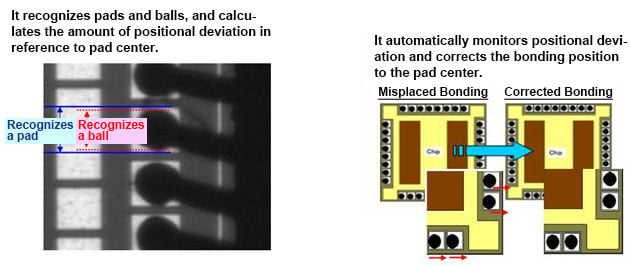 Free Air Ball Measurement (FAM): Automatic free air ball size monitoring capability
FAM is a unique technology of Shinkawa which monitors free air ball (FAB) diameter during wire bonding, and detects its abnormality at the same time, to stabilize the diameter. To detect abnormality, the function to monitor capillary tip position – called reference positioning system (RPS) – is utilized. FAM is a key technology to support the highly reliable bonding of the UTC-5000 series.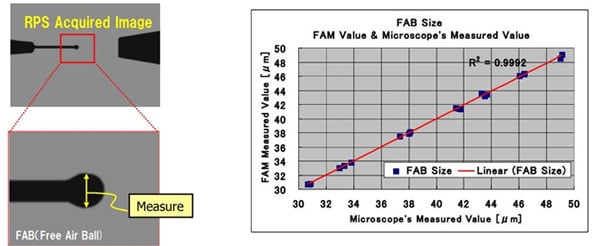 ITEM

DETAILS
Product Name
Wire Bonder
Model

UTC-5100

Bonding Accuracy
±3.0 μm (3 σ), (The bonding accuracy changes depending on the conditions of device and temperature)
Bonding Speed
42 ms/0.7 mm wire (45 ms/2 mm wire)
(with loop control and force detection mode) Using Shinkawa standard device
Bonding Wire Length
4 mm maximum (Varies depending on device conditions)
Resolution
XY table: 0.1 μm, Z-axis: 0.1 μm
Vibration Control
Shinkawa NRS - Non Reaction Servo System
Bonding Area
X: 66mm - Camera offset, Y: 95mm - Camera offset
Wire Size
Au φ18–50 μm
Bonding Force

3~1,000gf

No. of Bonding Wires
12,000 wires maximum
Loader / Unloader
Fully automatic magazine stacker system (Option: stocker system)
Workpiece Size
Width
20~102mm
Length
95~300mm
Thickness
0.1 - 0.5 mm (Varies depending on type of device)
(Conversion parts are required when thickness changes)
Production Management
Management of equipment availability through production management monitoring screen
Option Available

Communication interface SECS-I/SECS-II, HSMS, GEM

Utilities
Input Power Supply
Single Phase 100VAC (±5% input variation) 50/60Hz (other voltages require transformer)
Power Consumption
Approx.1.2kVA (1.1kW)
CDA
500kPa (5 kgf/cm2) 102L/min
Vacuum
-74kPa (-550 mmHg) or below (gauge)
Physical Dimensions and Mass
1,244W × 964D × 2,092H mm Approx.520 kg
※Configuration and specifications of this machine are subject to partial modification without prior notice.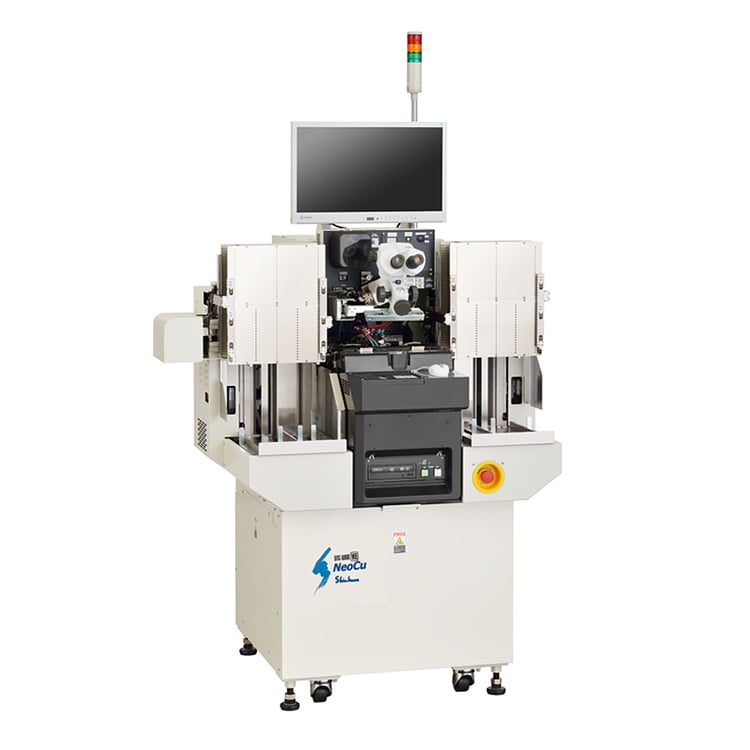 UTC-5000WE NeoCu