Wide-area Adaptive High-speed Wafer Bump Bonder
High-speed bonding of 30 ms/bump based on Wire Bonder model UTC-5000
Capable of handling up to 6-inch wafers by incorporating wafer rotary stage
Equipped with Two wafer stages with temperature up/down control function, reducing time for SAW filter wafer changeover and increasing productivity
Automatic free air ball monitor function (FAM) measuring initial ball diameter
Wafer autoloader enables automatic wafer replacement (option)
Bond Inspection Measurement (BIM)
BIM is the capability to correct bonding position by feedback of the positional deviation of each bonding position from the pad center using images captured after bonding. It corrects in real time any positional deviation due to disturbances during the bonding operation, and stabilizes the bonding accuracy.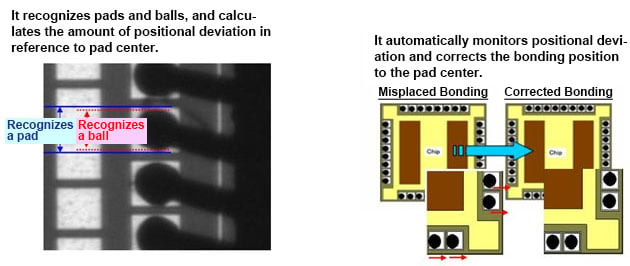 Free Air Ball Measurement (FAM): Automatic free air ball size monitoring capability
FAM is a unique technology of Shinkawa which monitors free air ball (FAB) diameter during wire bonding, and detects its abnormality at the same time, to stabilize the diameter. To detect abnormality, the function to monitor capillary tip position – called Reference Positioning System (RPS) – is utilized. FAM is a key technology to support the highly reliable bonding of the UTC-5000 series.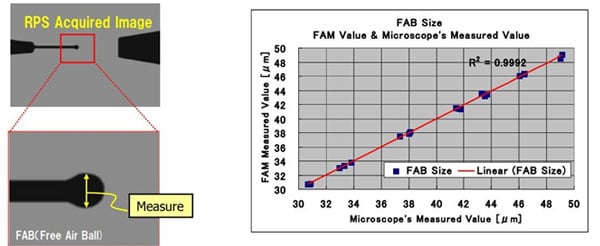 ITEM

DETAILS
Product Name
Bump Bonder
Model

SBB-5200

Bonding Accuracy

±2.5 μm(3σ)Using Shinkawa standard device

Correction of Bonding Position
System to check and correct capillary offset prior to bonding through Shinkawa RPS
Bonding Speed

30 ms/ bump (no reverse motion) using Shinkawa standard device

Resolution
XY-table: 0.1 μm Z-axis: 0.1 μm
Vibration Control

Shinkawa NRS - Non Reaction Servo System

Bonding Area
Maximum φ150 mm (6-inch wafer)
Wire Size

Au φ15~32 μm

Bonding Force

Maximum 4.9N

No. of Bonding Bumps
30,000 bumps maximum
Wafer Stage
2 wafer stages for 6-inch wafers ※with temperature up/down control function
Wafer Size
Size
Maximum 6 inches
(Conversion parts are required when wafer size changes.)
Thickness
0.15~0.6 mm(Conversion parts may be required when wafer thickness changes.)
Production Management
Management of equipment availability through production management monitoring screen
Options Available
Automatic wafer loader for 6-inch wafer
Utilities
Input Power Supply
Single Phase 100 VAC (±5% input variation)
50/60Hz (other voltage requires transformer)
Power Consumption
Approx. 1.1kVA
CDA
500 kPa(5 kgf/cm2)100 L/min
Vacuum
-74kPa or below (-550 mmHg) (gauge)

Physical Dimensions and Mass

1,000W × 1,084D × 2,092H mm Approx. 500 kg
*Configuration and specifications of this machine are subject to partial modification without prior notice.